Non-toxic algae control for World Vision garden 2011
Dyofix Pond Dye is playing a key role in the creation of a garden for the World Vision charity at this year's Royal Horticultural Society Hampton Court Flower Show.
Dyofix Pond Black, manufactured by textile dye manufacturer Town End (Leeds) plc is being used to choke any unwelcome algae in the garden's large reflective pool and to create a black mirror image of the two grass domes which together represent the world's prosperous nations and the 'have nots'.
Designed to reflect the charity's work enabling children to live life to the full in more than 100 countries worldwide, the vision of a unified world in perfect balance can only be viewed in the reflection created by Dyofix.
Comments John Warland of award-winning garden designer Flemons Warland Design.
"We chose Dyofix as the number one professional option for creating a slick reflective finish. Its environmental features make it the perfect fit for any RHS show, whilst delivering a stylish appearance."
This follows Dyofix Pond Black's success at last month's Chelsea Flower Show, where the product was used to create a light reflecting surface in a number of award-winning gardens, including the RHS People's Choice Award Winner, The Irish Sky Garden by Diarmuid Gavin.
Based on European Food Safety A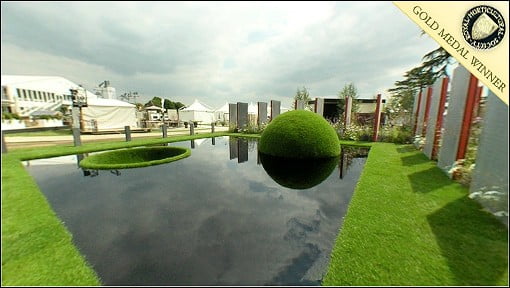 pproved organic food dyes, Dyofix is an environmental and wildlife friendly non-toxic algae control, algae prevention and inhibitor which works by reflecting light away from the base of the pond, eliminating the life source of the nutrients present beneath the surface of the water and stopping the growth of submerged weeds and algae. Algae can be harmful to plants, fish and other wildlife and creates unsightly scum.
Says Peter Watson, production director at Town End.
"We are delighted to be able to donate to this worthwhile cause and to be the catalyst that brings the whole vision together in their large reflective pool. Based on organic food-standard dyes which have been tested to the highest levels, our range of products can be used in areas of water from the smallest of ornamental garden ponds and country estate lakes to commercial fishing lakes, municipal parks, golf and leisure clubs."
Established in the 19th century, Town End diversified into environmentally and wildlife friendly algae inhibitors for lakes and ponds five years ago and the product range sits alongside its core business of dyes for the textile trade.