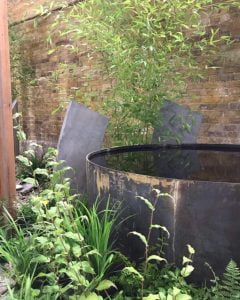 Urban Oasis at London Bridge Station
Tessa and Caitlin McLaughlin: Garden Designers
Award-winning garden designers, Tessa and Caitlin McLaughlin were asked to contribute to an urban garden display at the walk-through at London Bridge station. The remit of the display was to recycle the materials that had been used at the 2019 RHS Hampton Court Garden Festival and turn them into temporary public gardens, to highlight the importance of recycling materials.
The urban gardens can be viewed up till November 2019 when the project ends. The materials and plants will continue to be recycled into local community projects.
Tessa and Caitlin used Dyofix Black in a huge steel drum, to great effect in their urban garden design.
For more information please email our sales department or telephone sales by dialling 0113 256 4251.