Andrew Christopher Garden Designer and The Samaritans Garden
"You talk I'll listen" Garden at Bloom 2014
Andrew Christopher garden designer sent a message after his garden design won the 2014 triple: Bloom Gold medalist, Best in Category and Designers Choice award.
"There was huge interest in Dyofix and I directed everyone to your website. Over 106,000 people saw the garden over the five days and we got gold, best in category and designers choice. Thanks again for your help."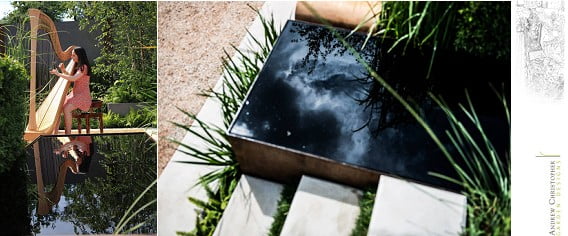 Tranquil Space

The Samaritan's garden is a tranquil, relaxing, social space designed to highlight the powerful effects of simply talking about your problems. The garden represents the room to breathe, slow down and think clearly, that talking to the Samaritans can offer.
The garden combines soft woodland style planting with heavy industrial materials such as rusted steel and concrete. The industrial materials are reflective of the modern city scape of a post Celtic tiger era, which has left a scar on both a city (where the garden would be sited) and its inhabitants. However the planting, which represents the powerful effects of talking and listening, envelops these materials and softens them to heal the scars of modern Irish life.